Colombian police launch search for kidnapped girl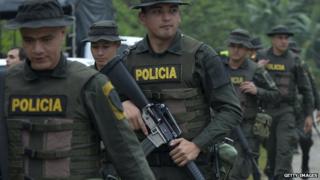 A widescale rescue operation has been launched by the Colombian government to find the kidnapped 11-year-old daughter of a high profile security official.
The girl was taken on Thursday. Her father, Diego Mora, is director of the National Protection Unit of Colombia.
The unit is responsible for providing protection for people who are considered to be at risk.
This sort of high profile kidnapping has become unusual in recent years, says the BBC's Natalio Cosoy.
Interior Minister Juan Fernando Cristo said the country's president, Juan Manuel Santos, had ordered that all necessary resources are used to find the girl.
"This is no doubt a kidnap. We have deployed an operation," Mr Cristo said.
Taken from school
The kidnapping took place in the northern city of Cucuta, on the border with Venezuela.
The girl was taken by a group of unknown men as she was being driven out of her school in a bulletproof car.
Authorities found the car and her driver a few hours later after tracking the vehicle's GPS, but have not been able to trace the girl any further.
National police director Rodolfo Palomino told local media that a call had been received from what could be the kidnappers.