Violent clashes at Brazil teachers' protest in Curitiba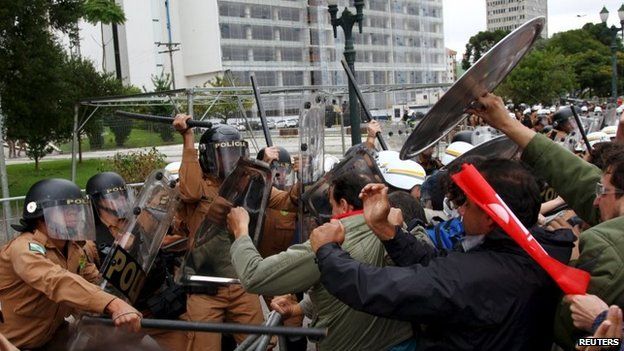 More than 200 people are reported to have been injured in clashes between police and teachers protesting in the Brazilian city of Curitiba.
Police fired rubber bullets and stun grenades at demonstrators in the southern city on Wednesday.
Officers said they had been forced to act when a group of protesters tried to break through police lines around the state legislative assembly.
The teachers were protesting against proposed changes to their pension.
Curitiba city officials said 213 people had been injured. The emergency services reported that eight were in a serious condition in hospital.
However, the government of Parana state put the number of injured protesters much lower. It said 40 protesters and 22 police officers were hurt.
The organisers of the protests said 20,000 people attended the march, but there has been no independent confirmation of those number.
The teachers were trying to prevent members of the state assembly from voting on a proposal which would move their state pensions to a different fund.
The teachers are worried the new fund will not be as secure and have repeatedly gone on strike in an attempt to prevent it.
The vote went ahead on Wednesday with thee state assembly approving the changes.