Venezuela 'receives $5bn in finance from China'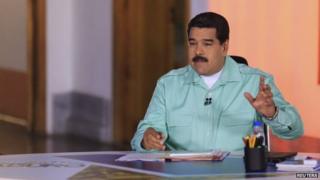 Venezuela has received $5bn (£3.4bn) in financing from China, Venezuelan President Nicolas Maduro says.
The money was for "development", he said on Sunday, but gave no details.
The announcement comes three months after Mr Maduro travelled to China - a major investor in the region.
Venezuela is suffering from an acute economic crisis, as the price of its main export, oil, has almost halved over a year. The opposition accuses the government of mismanagement.
Mr Maduro visited Beijing in January and said at the time that China would invest more than $20bn in Venezuela.
He did not make clear in Sunday's announcement if these latest $5bn were part of that larger sum.
China's influence
Loans by China's state-owned banks to Latin American countries rose by 71% to $22bn (£14bn) in 2014, according to estimates published by the China-Latin America Finance Database.
The Chinese loans exceed the combined worth of those by the World Bank and the Inter-American Development Bank, according to the database.
The $5bn will be a boost to Venezuela, which has been hit hard by falling oil price. According to reports, 96% of its export revenues come from oil.
Figures from Venezuela's oil ministry suggest the price of Venezuelan oil has dropped from $97 in April 2014 to $50 this month.
Inflation in 2014 stood at more than 60% and there are widespread shortages of basic staples such a flour, cooking oil and milk.