French victims of Argentina crash to be flown home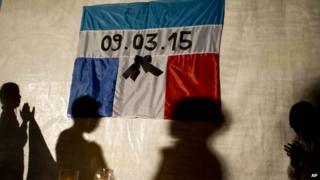 The bodies of eight French nationals who died in a helicopter crash in Argentina last week will be flown home "in the coming days", officials say.
The eight, including three sports stars, died when two helicopters collided during the filming of TV reality show Dropped.
Argentine officials said they had identified their remains and those of the two Argentine pilots.
An inquiry into what may have cause the mid-air collision is under way.
Mystery crash
Argentine and French forensic experts said the bodies had been badly burned in the crash.
Identification had to be carried out by comparing dental records for all but one of the victims. Relatives of one of the pilots were able to identify his wristwatch.
French Olympic swimmer Camille Muffat, boxer Alexis Vastine and sailor Florence Arthaud were among those who died in the crash on 9 March.
---
France loses three sport stars
Camille Muffat, 25, won three medals, including gold in the 400m freestyle in the 2012 London Olympics. She retired from competitive swimming in 2014.
Alexis Vastine, 28, won bronze at the 2008 Beijing Olympics in the light-welterweight category. He was narrowly beaten in the quarter-finals of the 2012 Games.
Florence Arthaud, 57, was a hugely accomplished sailor, winning the 1990 Route du Rhum, the prestigious solo Atlantic race. A serious car accident put her in a coma when she was 17.
Profiles of Muffat, Vastine and Arthaud
---
The three had been taking part in the TV show Dropped, in which participants are flown into rough terrain and filmed while they attempt to find food and shelter.
The five other French victims worked for Adventure Line Productions (ALP), the company making the programme.
They were Laurent Sbasnik, Lucie Mei-Dalby, Volodia Guinard, Brice Guilbert and Edouard Gilles.
The crash happened in good weather near the town of Villa Castilla in La Rioja province.
The pilots, Juan Carlos Castillo and Roberto Abate, reportedly had ample flying experience.
Argentine officials are investigating the crash and French prosecutors have opened a manslaughter inquiry.