Argentina arrest over 19th Century gold ingot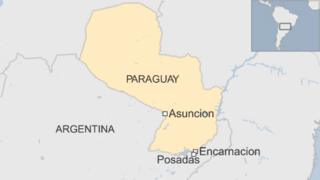 The Argentine authorities say they have arrested two Paraguayan men who tried to cross the border with a 19th Century gold ingot worth more than $2m (£1.3m).
They say the 25kg (55lb) ingot was stamped with the inscription "Central Bank of Paraguay 1824".
One of the arrested men said they had bought it from a group of indigenous people for about $50,000.
About a kilo of silver was also seized when the men were stopped in a lorry for a routine search.
They had crossed from the Paraguayan town of Encarnacion into Posadas in Argentina.
Using a scanner, customs officers found the ingot hidden under a passenger seat.
Correspondents say it may have been buried for safekeeping by a wealthy family during the war of the Triple Alliance in 1864-1870, when Paraguay fought against Argentina, Brazil and Uruguay.
Paraguay was defeated by the alliance, suffering massive casualties and losing territories.
Officials in Paraguay have been informed of the arrests, Argentine sources said.