Argentine prosecutor appeals in President Fernandez case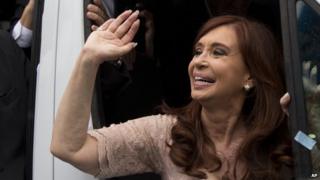 A prosecutor in Argentina has appealed against a judge's decision to throw out a controversial case against President Cristina Fernandez de Kirchner.
She had been accused of covering up the alleged involvement of senior Iranian officials in a 1994 bomb attack against a Jewish centre in Buenos Aires.
Prosecutor Gerardo Pollicita described last week's ruling as "hasty and premature".
Ms Fernandez has always rejected the allegations.
Last week, Federal Judge Daniel Rafecas said he was throwing out the case against Ms Fernandez after carefully examining a 350-page report prepared by special prosecutor Alberto Nisman before his unexplained death in January.
The case has dominated the Argentine media for most of this year.
Judge Rafecas said there was not a single piece of evidence that pointed to Ms Fernandez.
Eighty-five people died in the car bomb attack, which completely destroyed the seven-storey Argentine Israelite Mutual Association (Amia) cultural centre in the heart of the Argentine capital.
Mr Nisman was found dead in his apartment on 18 January with a bullet wound to the head hours before he was due to testify in Congress against Ms Fernandez and Foreign Minister Hector Timerman.
It is not clear whether he was murdered or killed himself.
The government has rejected any role in his death.
Ms Fernandez said Mr Nisman had been fed misleading information by a rogue intelligence agent who was trying to discredit her government.