The authors hoping to shape a new Colombia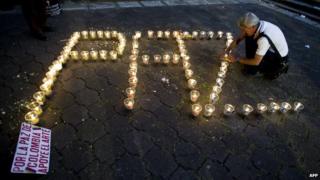 When President Juan Manuel Santos returned to power last year, he promised a "new Colombia" with a peace deal after five decades of armed conflict with rebel forces. It is a future the country's leading writers are hoping to shape.
Colombia's famous walled city of Cartagena overflows with tropical colours, architectural gems and loud African-Caribbean music.
Rising above it is the sound of Spanish - spoken at full throttle - as writers gather to consider their role in the country.
Santiago Gamboa is one of them - author of the acclaimed novel Necropolis, and a forthright political columnist.
"Cartagena is special," he tells me. "A safe place where we seek refuge. Even politicians relax and walk around in shorts."
This year is an important one for Colombia, and for Gamboa - as well as turning 50 years old, it is also 20 years since his first novel and 30 since he left for exile in Spain. Now he is back.
"I've returned to Colombia because the peace process is for us a historical moment. I want to write about it. Millions of us left in the bad years. Now we're returning - 2015 is a make-or-break year."
Gamboa leans against the orange walls of the 17th-Century colonial jewel Santa Clara. The former convent is now a hotel and festival venue.
"When I left, Colombia was dark and conservative - lost, like an island. There were few books in the shops, just photocopies. My novels were printed in Spain.
"Now Colombia has books and publishers. Everything is modernising, even our minds.
"In Anglo-Saxon countries," he continues, "there's a big gap between politics and fiction. Not here. We treasure intellectuals. My form of activism is writing."
'Parallel government'
Colombia's most famous author, Nobel Prize-winner Gabriel Garcia Marquez, also combined politics and fiction, and was an unflinching critic of the country's dark deeds.
He died last year, but lives on through special tours, conversations and the architecture and streets of Cartagena fictionalised in his magical realist novels, like One Hundred Years of Solitude.
"Garcia Marquez ran a parallel government in Cartagena. World leaders paid homage to him," says the celebrated young author Juan Gabriel Vasquez.
"Garcia Marquez and his generation reinvented South America through their writing.
"They always met in Cartagena. For us younger writers, meeting them here was like sitting down with Charles Dickens or Gustave Flaubert."
I find only one bricks-and-mortar bookshop in Cartagena - proudly displaying Garcia Marquez's novels. Elsewhere, an old ice cream barrow serves as a portable shop. Ad hoc bookstands line the city walls.
But Colombia is building new bookshops and libraries - the city of Medellin leading the way. In rural areas the ingenious Biblioburros - or "book donkeys" - act as mobile libraries reaching readers in remote areas.
Books will not banish Colombia's problems. At Cartagena's bus terminal you can see the poor and wounded. There are five million internally displaced people in Colombia and thousands of traumatised fighters which will need to be reinserted into civilian society.
But Juan Gabriel Vasquez argues that books matter - especially now.
"I've moved back to Colombia after 13 years," he tells me. "Every novel I write is a form of inquisition into a dark place.
"Writers have a big responsibility. We belong to a tradition of public intellectuals questioning politics."
So how does he feel about Colombia today?
"The peace process is the most important event in 100 years," he says.
"But there's also resistance - a dirty war being waged by some to sabotage it. Colombia is one of the most polarised countries on earth."
"I sympathise with those who aren't comfortable with the peace process. After 50 years of terrorism they think it's hideous to share power with former rebels and see them take seats in Congress. But if it falls apart, we won't get a second chance."
Reclaiming 'our promised land'
There is another writer I have been waiting to meet in Cartagena, so in demand is Hector Abad.
His smile lights up the room. Tears come easily to his eyes. His story is well known - although his father was murdered by the paramilitaries in 1987 he never left Colombia.
As well as writing fiction, he runs a bookshop in his home city of Medellin, teaches at Medellin University, is director of its new library and has just launched the first ever national literature prize.
"For many of us," he explains, "Colombia was the promised land. I dreamed, I stayed - always hoping. It's now time to reclaim our promised land."
"When the war is over we'll find a beautiful country. The only funerals we attend should be of our parents, after long lives."
Like much of Latin America, Colombia respects its authors, and produces a fair number of politician-writers. Another Nobel laureate, Mario Vargas Llosa, campaigned to become president of Peru.
I ask Hector Abad whether he would ever try to become the Colombian leader? The answer is a hearty laugh.
"Does President Santos write books?" I follow up.
"No, but he's a reader."
"Does that make him a good president for Columbia?" I reply.
Abad laughs again. "I don't know. But fiction broadens the mind, so a book-loving president can't be bad."
How to listen to From Our Own Correspondent:
BBC Radio 4: Saturdays at 11:30 GMT.
Listen online or download the podcast.
BBC World Service: At weekends - see World Service programme schedule.