Cuba sentences two for would-be migrants' murder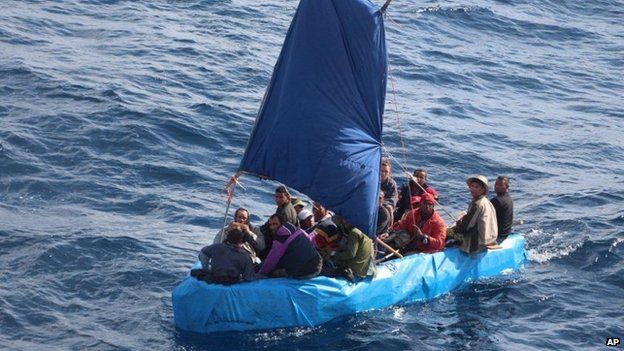 Cuban state media reported on Monday that two people had been sentenced for killing four would-be migrants in June.
Five more people were also sentenced in connection with a scheme which conned Cubans into believing they would be smuggled out of the country only for their fare to be stolen from them.
It is not clear from the report how the four were killed.
Thousands of Cubans have left the Communist-run island illegally for the US since the revolution.
State-run newspaper Granma said the seven people had conspired to cheat Cubans who wanted to leave the island out of their money.
They told would-be migrants they could smuggle them off the island and into the US by sea in exchange for an unnamed sum of money.
Eleven people signed up, according to the paper.
On the agreed day, they took them one by one to a remote location in Artemisa province, west of the capital, Havana.
There, they attacked them in order to steal the money they had agreed to pay for their passage.
Jorge Luis Salazar Ricardo and Reinier Armas Garcia were sentenced to life in prison for their murder.
The five other accused were sentenced to jail terms ranging from between eight and 25 years.
Even though the need for government-issued exit permits in Cuba was lifted in 2013, many Cubans still choose to pay people smugglers rather than risk being turned down for a passport or a visa.
Any Cuban who sets foot on American soil is entitled to stay there and thousands are willing to risk their lives on makeshift boats or rafts.
Last year, the US Coast Guard intercepted more than 2,000 Cubans trying to do that.