Argentina prosecutor death: Unexplained DNA found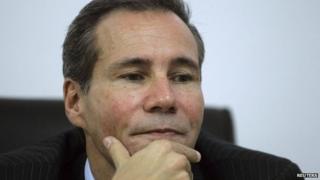 Forensic experts in Argentina have found DNA from an unidentified person in the apartment of special prosecutor Alberto Nisman, who died in mysterious circumstances last month.
Mr Nisman was found in his apartment, shot in the head, hours before he was due to testify against President Cristina Fernandez de Kirchner.
He had accused her of covering up alleged Iranian involvement in the 1994 attack on a Buenos Aires Jewish centre.
The bomb attack killed 85 people.
Ms Fernandez has rejected the allegations. Iran also denies involvement.
More than three weeks after Mr Nisman's death, it remains unclear if he committed suicide, was induced to commit suicide or was murdered.
'Rogue agent'
Judge Fabiana Palmaghini, who is investigating Mr Nisman's death, has ordered tests to try to identify the genetic material found in his apartment.
Those who could have visited Mr Nisman on the day of his death, 18 January, will be asked to come forward to provide a DNA sample, she said.
A long-time acquaintance of Mr Nisman, Diego Lagomarsino, said he was in the apartment on 17 January.
Mr Lagomarsino lent Mr Nisman the gun that was later found next to his body. He said the prosecutor asked him for the gun because he "feared for the safety of his daughters".
Ms Fernandez accused Mr Lagomarsino of being a fierce opponent of the government.
She also tabled a bill to disband Argentina's intelligence service and said an agent had fed Mr Nisman misleading information in order to turn him against the government.
Many in the opposition accuse the government of ordering Mr Nisman's death to silence him.
Days before his scheduled hearing in Congress, Mr Nisman had published a 300-page report on the attack on the Amia Jewish centre.
The report alleged the president and Foreign Minister Hector Timerman had conspired to protect Iranian suspects in the bombing case.