Petrobras scandal: Workers' Party treasurer questioned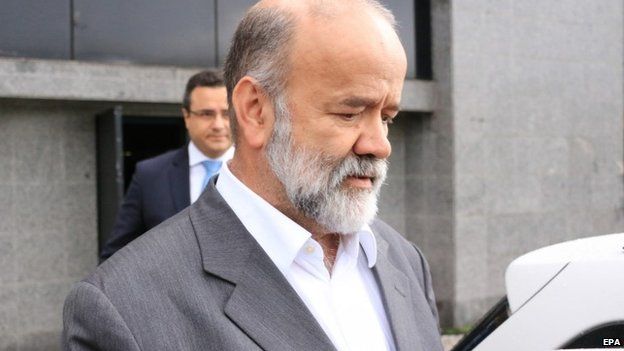 Police in Brazil have questioned the treasurer of the governing Workers' Party in connection with a scandal involving state oil giant Petrobras.
Joao Vaccari Neto has not been charged but was taken to a police station in Sao Paolo to make a statement.
Investigators allege that companies paid inflated prices for Petrobras contracts and that money was funnelled to the Workers' Party and its allies.
A statement from the Worker's party called the accusations "lies".
Prosecutor Carlos Fernando dos Santos Lima said they wanted to know about donations "legal or illegal" that Mr Neto had requested from people with Petrobras contracts.
In response to the questioning, the Worker's Party said it only received legal donations that were declared to the electoral authorities.
This latest development is an uncomfortable moment for President Dilma Rousseff and her party, BBC Brasil's Gary Duffy in Sao Paulo says.
It had been alleged at earlier stages of the inquiry that politicians were involved in the scandal, but the questioning of Mr Neto moved it into a new phase, our correspondent adds.
Police said they were following up 62 additional warrants for detentions, arrests and searches.
They said their action resulted from the analysis of documents and contracts seized earlier in the inquiry, as well as information from individuals already being questioned.
The move comes a day after Petrobras CEO Graca Foster and five other executives resigned.
Replacements for them are due to be named on Friday.