Argentina Jewish community boycotts Holocaust memorial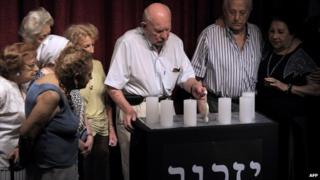 Jewish groups in Argentina have boycotted the government's Holocaust commemorations a week after the mysterious death of the prosecutor Alberto Nisman.
Mr Nisman was investigating the bombing of a Jewish centre in Buenos Aires in 1994.
He accused the government of covering up Iran's alleged role in the bombing in which 85 people died.
Jewish leaders said the government had lost focus on the investigation.
Some leaders said they were upset by a long televised address by Argentine President Cristina Fernandez de Kirchner in which, they say, she showed little sympathy for Mr Nisman or the victims of the 1994 attack.
President Fernandez rejected the accusation of a cover up involving Iran, saying the country's powerful intelligence services may have been manipulating Mr Nisman, feeding him false information, in order to conspire against her government.
On Monday she announced plans to disband Argentina's intelligence agency.
In a TV address, she said she would draft a bill to set up a new body.
Before the official Holocaust commemorations, President Cristina Fernandez met family members of the victims of the attack on the Jewish cultural centre in her official residence.
Local media reports said they discussed how the bombing investigation would progress and who would take over the role of special prosecutor.
Argentina has one of the largest Jewish communities outside Israel - around 200,000 people.