Cuban dissidents 'arrested during protest' outside jail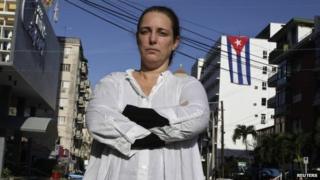 Cuban dissidents say police have arrested a group of political activists who had been protesting outside a jail in the capital, Havana.
Dozens of dissidents have been taken into custody in Cuba since Tuesday.
The police operation began just a few hours before a planned open microphone protest at Havana's Revolution Square.
It comes two weeks after Cuba and the United States announced they had agreed to restore diplomatic and economic relations, severed in the early 1960s.
The protest, which never went ahead, was aimed at testing whether Cuba's communist government had become more open to political dissent since the historic announcement of 17 December.
The organiser, performance artist Tania Bruguera, was among dozens of activists detained on Tuesday.
She was re-arrested outside the detention centre, known as El Vivac, according to Cuba's best-known dissident blogger, Yoani Sanchez.
The arrests have not been confirmed by the Cuban authorities or reported by state media.
'International obligations'
On Wednesday, the United States said it was "deeply concerned" about reports of the arrests.
"We strongly condemn the Cuban government's continued harassment and repeated use of arbitrary detention, at times with violence, to silence critics," read a statement issued by the State Department.
Washington it would "continue to press the Cuban government to uphold its international obligations".
The crackdown was flagged up by Ms Sanchez, on Tuesday.
She posted on Twitter that her husband, Reinaldo Escobar, and another dissident, Eliecer Avila, had been detained.
Ms Sanchez, founder of opposition website Catorce y Medio, said she was briefly put under house arrest.
Mr Escobar, a senior editor at the website, was released after several hours in police custody.
'Rigid outdated policy'
US-Cuban ties have been frozen since the early 1960s.
On 17 December President Obama and his Cuban counterpart, Raul Castro, made simultaneous announcements stating that they planned to normalise relations.
President Obama said the "rigid and outdated policy" of isolating Cuba since then had clearly failed and that it was time for a new approach.
Mr Castro, meanwhile, urged the US to ends its trade embargo, which has been in place since Cuba turned to communism more than 50 years ago.
But the proposals to end the embargo still need to be approved by the US Congress, where they face strong opposition.