Argentine leader Fernandez cancels travel after ankle injury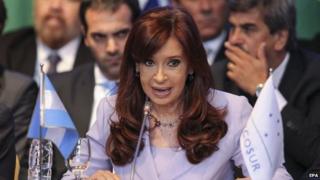 Argentine President Cristina Fernandez de Kirchner has cancelled her planned trips to Brazil and the Vatican after breaking her ankle on Friday.
Cabinet Chief Jorge Capitanich said the president would suspend all international travel until February.
He said Ms Fernandez had slipped on a liquid spilled on the floor of her home in Patagonia, in southern Argentina.
The president has had a series of health problems, some of which have forced her to cancel official trips.
Ms Fernandez was due to travel to Brazil for the inauguration on 1 January of President Dilma Rousseff, who has been elected to a second term in office.
She will also miss a trip to the Vatican alongside the Chilean President, Michelle Bachelet.
In November, Ms Fernandez had to cancel her attendance at a commemoration of the 30th anniversary of the signing of a peace treaty with Chile, which Ms Bachelet was also due to attend.
At the time, the Argentine leader was suffering from a sigmoiditis, an inflammation or infection of the sigmoid colon.
Last year, she had to rest for a month after undergoing surgery to treat bleeding on the brain.
President Fernandez, of the left-wing Front for Victory party, was first elected in 2007 and then returned to power by a comfortable majority in 2011.