Mexican journalist and author Vicente Lenero dies aged 81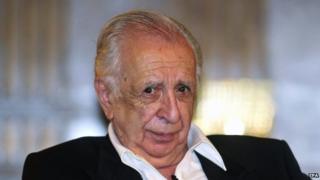 Mexican journalist Vicente Lenero has died at the age of 81 in his home in Mexico City.
Lenero, who also wrote plays and film scripts, had lung cancer.
One of his most famous works is The Bricklayers, which portrays 1970s Mexican society through the lives of construction workers.
Lenero was also a co-founder in the 1970s of influential weekly magazine Proceso. His daughter said he died peacefully surrounded by his family.
Lenero wrote a total of 18 scripts for films such as Herod's Law and The Crime of Father Amaro, which was nominated for an Oscar for best foreign film in 2002.
The film version of his novel The Bricklayers, for which he also wrote the screen adaptation, won a Silver Bear at the 1977 Berlin Film Festival.
He continued to work as a journalist until the end, publishing his last monthly column in Revista de la Universidad de Mexico in October.
Mexican author Elene Poniatowska, who was awarded this year's Cervantes prize, said Mr Lenero would be "terribly missed".
"One of the greats of Mexican journalism is gone," she said at the Guadalajara Literary festival, which Lenero himself often attended.