Colombia leader Santos warns armed forces of disloyalty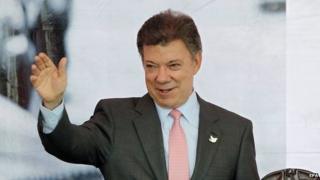 Colombian President Juan Manuel Santos has warned the armed forces that he will not tolerate any acts of disloyalty among them.
"Any officer, doesn't matter how important, showing the slightest sign of disloyalty or lack of discipline will be out of the military," he said.
The warning came a day after Gen Ruben Alzate announced his resignation.
The general was kidnapped by Farc rebels while he was travelling along a river in breach of security protocols.
Crisis
Gen Alzate was released by the left-wing rebels on Sunday after two weeks in captivity. He resigned the following day.
He is the highest-ranking officer ever to be held by the rebels.
His abduction alongside lawyer Gloria Urrego and Cpl Jorge Rodriguez prompted the suspension of peace negotiations between the government and the guerrilla.
It was the most serious crisis in the talks since they started more than two years ago in Cuba.
Government and rebel negotiators are currently discussing a resumption of the negotiations.
Security breach
Gen Alzate, who has more than 33 years experience, said he decided to ignore security protocols because of his "love for the people of Choco", the province where he was seized.
He boarded a small boat and, accompanied only by one soldier, the corporal and the lawyer, he travelled down the Atrato river, which is known to lead into rebel-held areas.
Having docked in the small village of Las Mercedes, the general, the corporal and Ms Urrego were approached by a small number of rebels who abducted them.
In a public statement on Monday, Gen Alzate said he had dispensed with the usual security back-up because he felt locals would find it more reassuring if he was unarmed and in civilian clothes.
He said he had travelled to the area to discuss a hydro-electric power scheme with the community.
President Santos told Colombian radio RCN that he "had no reason to disbelieve his version" of events.
He said that the general's actions had "put the country in difficulties" and that it was "an inexcusable error" but that with Gen Alzate's resignation the issue was now over.
The president also said that any leaks by military officials which could jeopardise the peace process would be punished with immediate dismissal.
News of the general's kidnapping was first made public on Twitter by former president Alvaro Uribe, an opponent of Mr Santos and a fierce critic of the peace talks.