Argentine President Fernandez leaves hospital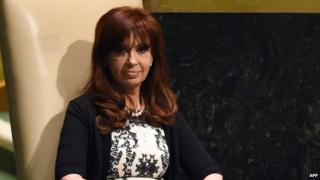 Argentine President Cristina Fernandez de Kirchner has been discharged from hospital after being treated for the latest in a series of medical problems.
President Fernandez, who is 61, was hospitalised a week ago with fever and stomach pains.
Doctors diagnosed an intestinal infection but have allowed her to leave hospital and ordered 10 days' bed rest.
This is the third time in less than a year that the president has suffered health issues.
The latest problem forced her to cancel her attendance at the G20 summit in Australia.
She was laid low for several days last month with an inflammation of the throat.
In July she had laryngitis, which forced her to cancel a trip to Paraguay.
More than a year ago she underwent surgery for bleeding in the brain, forcing her off work for six weeks.
She also had an operation in 2012 to remove her thyroid.