Uruguay's Jose Mujica gets $1m offer for his VW Beetle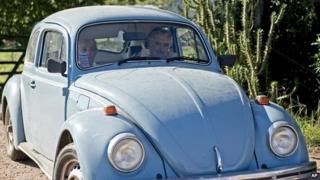 Uruguay's President Jose Mujica says he has been offered $1m (£630,000) for his vintage Volkswagen Beetle.
Mr Mujica, once dubbed "the poorest president in the world" because of his modest lifestyle, said the offer had come from an Arab sheikh.
He told the weekly Busqueda magazine that if he did accept the offer, the money would be used to help the poor.
President Mujica - popularly known as Pepe - lives on a ramshackle farm and gives away most of his pay.
In 2010, his annual personal wealth declaration - mandatory for officials in Uruguay - was $1,800, the value of his blue 1987 Beetle.
Busqueda reported that the offer for the car was made at an international summit earlier this year in Santa Cruz, Bolivia.
"They made me an offer," Mr Mujica, 79, told the magazine.
"I was a bit surprised, and at first I really didn't pay too much attention to it. But later, another offer came in, and I began to take it a little more seriously."
The president said he had "no commitment to cars" and would happily auction it.
He joked that he had not sold it so far because he needed it for his dog Manuela, famous for only having three legs.
Mr Mujica said that if he got $1m for the car, he would donate it to a programme he supports that provides housing for the homeless.
President Mujica is barred by the constitution from running for a second consecutive term and a presidential election held last month is to go to a second round.
A recent survey gave Mr Mujica an approval rating of nearly 60%.