Corinthians fans get chance to offer eternal support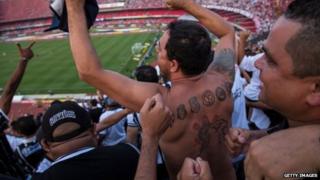 Brazilian football club Corinthians is to open a cemetery for supporters who want to be buried close to their favourite players.
Fans will be able to choose from up to 70,000 plots at the "Corinthians Forever" cemetery near Sao Paulo.
It will also function as the final resting place of some of the team's legendary players.
Corinthians have the second largest fan base in Brazil with around 25 million supporters across the country.
The cemetery will have function rooms, landscaped gardens, a restaurant, a lake and a nature reserve, said Ricardo Polito, chief executive of the company in charge of the project.
Correspondents say Corinthians will join a small group of other football clubs that offer exclusive cemeteries, including Boca Juniors from Argentina.
Plots will cost between 4,500 and 7,800 reais (between $1,870 and $3,240) depending on the area of the cemetery that is selected and its closeness to club idols who will also be buried at the site.
Backers say it will be a welcome respite from the volatility of the terraces, where fans are renowned for their passionate support of the club.
Last month the club was warned by the authorities not to let its supporters shout abuse at opposing teams, especially arch rivals Sao Paulo, whose goalkeeper has been subjected to homophobic abuse.