Racquet stolen from Gabriela Sabatini statue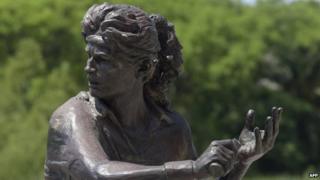 Thieves have stolen a tennis racquet that was in the hands of a newly unveiled statue of Argentine tennis star Gabriela Sabatini in Buenos Aires.
The artwork was left empty-handed just a few weeks after it was unveiled on the Rio de la Plata waterfront.
They left only part of the handle of the bronze-coloured racquet in the statue's hands, as the player lines up for a backhand smash.
Sabatini, now 44, was one of the top players in the 1980s and 1990s.
She won the women's singles title at the US Open in 1990 - the only Argentine to have done so - the women's doubles title at Wimbledon in 1988.
The statue was placed alongside memorials to Argentine sporting greats, including tennis player Guillermo Vilas and basketball player Manu Ginobili.
Plans are also afoot to erect statues of other Argentine sports stars including soccer players Lionel Messi and Diego Maradona, and golfer Roberto de Vicenzo.