Brazil prisoners end hostage drama at Guarapuava jail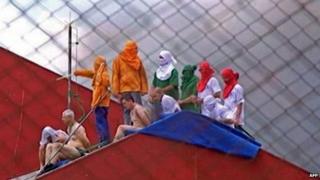 A two-day standoff at a jail in Brazil has ended after a group of prisoners freed 10 guards they had taken hostage.
The inmates overpowered and seized 13 guards during a riot on Monday but freed three of them shortly afterwards.
A local official said the "rebellion" ended after the prisoners' demands to be moved to other facilities were met.
Jail riots are relatively common in Brazil, which has the world's fourth largest prison population - 500,000 inmates in jails meant to hold 300,000.
A spokesman for the Parana state's justice secretary said 28 prisoners involved in the riot would be transferred from Guarapuava jail to other detention centres in the region.
Television images had shown the inmates on the roof of the prison holding the guards, whom they had stripped of their clothes.
At least five inmates and one guard were said to have been injured in the riot, which started when the prisoners were about to be taken to a construction site to carry out some building work.
The prison, which holds 240 people, allows inmates to study and carry out work projects. Prison authorities said it was the first riot since it had opened 15 years ago.
Prison riots in Brazil often turn extremely violent. Five people were killed in August in a riot in Cascavel prison also in Parana, two of them were decapitated.
Earlier this year the UN called for an investigation into the high number of violent deaths in Brazil's prisons, after previous riots at a jail in the north left dozens of people dead.