Earthquake kills 'at least one' in El Salvador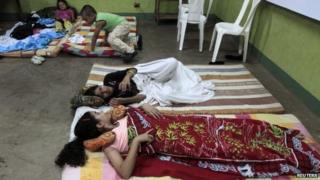 A quake struck off the coast of El Salvador late on Monday rattling much of Central America.
At least one person is reported to have died in the 7.3-magnitude quake when an electricity pole collapsed.
The US Geological Survey (USGS) said the quake hit in the Pacific Ocean 170km (105 miles) south-east of the capital, San Salvador.
The US Pacific Tsunami Warning Center issued a warning but lifted it minutes later.
Strong rumble
Locals said the quake was "strong when it started to rumble, and it would not stop".
"My family just prayed and asked God for it to stop," Maria Etelvina Deras told a local radio station.
Emergency services in El Salvador said a number of homes near the coast had been damaged but that the country's international airport was unaffected.
Electricity was cut off in parts of the country and some roads were blocked by stone falls.
The quake could also be felt in Honduras, Guatemala and Nicaragua and there was an aftershock in Costa Rica, the USGS said.
Nicaraguan President Daniel Ortega cancelled classes in schools nationwide on Tuesday and warned of possible aftershocks.