Haiti wreck not Columbus flagship - Unesco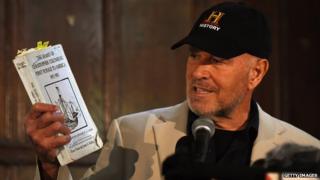 Experts examining a wreck off the coast of Haiti say it is not that of a ship which took explorer Christopher Columbus to the Americas in 1492.
"There is now indisputable proof that the wreck is that of a ship from a much later period," experts from the UN's cultural body Unesco announced.
A US marine archaeologist had said in May that he believed he had found the wreck of Columbus's flagship.
The ship, the Santa Maria, ran aground near Haiti in December 1492.
Unesco experts, who had travelled to Haiti to examine the wreck, said artefacts found at the site "were those of a more recent ship, being of copper alloy, while the Santa Maria should have had iron and/or wood fixations".
---
Columbus and his flagship
The Santa Maria left Spain in August 1492, along with La Pinta and La Nina, sailing westward
It was the largest ship in the expedition, about 117ft (36m) long
The ship ran aground on a reef near Haiti on 24 or 25 December 1492
---
US underwater investigator Barry Clifford had said in May that "all the geographical, underwater topography and archaeological evidence strongly suggests that this wreck is Columbus's famous flagship, the Santa Maria".
"I am confident that a full excavation of the wreck will yield the first-ever detailed marine archaeological evidence of Columbus's discovery of America," he said at the time.
But a team of experts headed by the former head of the Spanish National Museum on Underwater Archaeology, Xavier Nieto Prieto, concluded that the fasteners found at the site indicated "a technique of ship construction that dates the ship to the late 17th or 18th Century rather than the 15th or 16th Century".
In its report, the team also concluded that while the site where the wreck was found "is located in the general area where one would expect to find the Santa Maria based on contemporary accounts of Columbus's first voyage, it is further away from shore than one should expect".
A metal tube Mr Clifford had seen during a 2003 expedition and thought to be a lombard, or cannon, was no longer at the site, the experts said.
'No trace'
The Santa Maria was the flagship of Christopher Columbus's first voyage to the Americas.
Documents from the time suggest it ran aground on a reef or sandbank off the northern shore of Haiti on the night of 24 to 25 December 1492.
According to these historical sources, Columbus told his crew to strip timbers from the ship to build an outpost or fort nearby, leaving sailors behind while he returned to Spain.
By the time Columbus returned the following year, the fort had been burned down and the crew members had disappeared.
The wreck of the Santa Maria was never found. The Unesco experts said it could have been buried by sediment over the past centuries or have been slowly worn down by the waves.