Mexico mass grave: Officials seek to identify bodies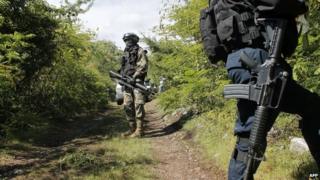 Investigators in Mexico are working to identify 28 bodies retrieved from a grave near the southern town of Iguala.
The grave is located in an area where 43 protesting students went missing after clashing with police last month.
Inaky Blanco, the chief prosecutor of Guerrero state, said identification could take two weeks.
The students disappeared after taking part in a protest over teachers' rights. Police opened fire on their buses, killing six people.
Witnesses said that most of the survivors - all trainee teachers - were bundled into police vans.
Some had gone into hiding and contacted their relatives after several days, still fearing for their lives.
Twenty-two police officers are being held in connection with the 27 September shooting.
Mr Blanco said one of those detained had admitted that 17 students had been shot dead at the site where the bodies were found. But he stressed that investigators had not confirmed the suspect's story.
'Anonymous tip'
The students had been taking part in a protest over job discrimination against rural teachers.
Iguala lies about 120 miles (200km) south of the capital Mexico City. The grave was discovered on Saturday, following an anonymous tip, local media reported.
State prosecutors said local officials and police officers could have links with criminal gangs operating in Guerrero state.
Arrest warrants have been issued for the mayor of Iguala, Jose Luis Albarca, and his security chief who are both considered fugitives from justice and may be involved in the violence.
Mexico correspondent Will Grant says the incident has highlighted the extent of the collusion between criminal groups and officials in much of the country.