Mexico relatives search for students in Guerrero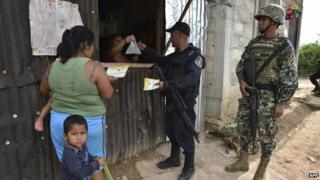 Desperate relatives have joined soldiers in the search for 44 students who disappeared during protests in the Mexican town of Iguala in the state of Guerrero.
The trainee teachers are missing since last Friday.
They were last seen being bundled into police vans during protests over job discrimination against rural teachers.
Police had opened fire on their buses and on protestors killing six people and injuring 17.
Some 22 officers are being held in connection with the shooting.
In Iguala and in the outskirts of the town relatives knocked on doors of homes handing out pictures of their loved ones.
Backed by soldiers and state police they looked in gullies, on empty land and in villages around Iguala in the hopes of finding traces of the students.
Manuel Olivares, coordinator of the Guerrerense Network of Human Rights Organisations told the French news agency, AFP: "The search is taking place in places that people know as being high-risk because organised crime dominates these places. "
He said while the families were hopeful their loved ones would turn up alive, they were looking in places that gangs use to bury bodies.
State prosecutors say they are following leads that drug gangs in the area could be involved in the disappearances.
They also issued an arrest warrant for the mayor of Iguala, Jose Luis Albarca and his security chief who are both considered fugitives from justice and who may be involved in the violence.
Fourteen students who had been missing and had fled the violence were reported alive on Tuesday at their homes or college giving hope that the others had also gone into hiding, officials said.
The state government is offering one million pesos ($75,000) for information leading to their location.
Hundreds of students and relatives marched on Thursday in the state capital, Chilpancingo, to publicize the disappearances.