Mexico frees drug lord's nephew Martin Beltran Coronel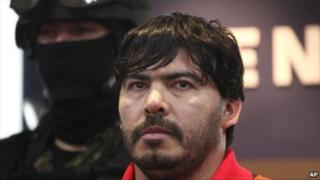 A Mexican court has ordered the release of Martin Beltran Coronel, who had been charged with organised crime.
The court said due process had been violated.
Mr Beltran Coronel, who is the nephew of the late drug lord Nacho Coronel, was arrested on 12 May 2011.
The court said statements by witnesses had been "induced" and Mr Beltran Coronel's right to being considered innocent until proven guilty had been breached.
Four of his co-accused were also released.
At the time of his arrest in western Jalisco state, police said they suspected Mr Beltran Coronel of having succeeded his uncle as one of the main leaders of the Sinaloa drug cartel.
Earlier this year, the Mexican security forces delivered a heavy blow against the cartel when they arrested its leader, Joaquin "Shorty" Guzman, who had been on the run for 13 years.
Mexican drug cartels have killed tens of thousands of people in the past decade as part of their battle for control of terrain and lucrative drug routes.