Mexico drug suspect Aquiles Gomez killed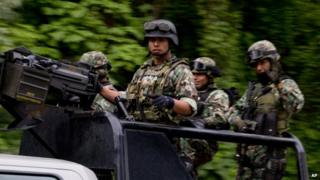 Mexican police have found the body of Aquiles Gomez, who was thought to be one of the main leaders of the Knights Templar drug cartel.
The body was found with a bullet wound in a house in central Michoacan state.
He was believed to be the brother of Servando "La Tuta" Gomez, head of the Knights Templars and one the country's most-wanted drug suspects.
Several of the cartel's top commanders have been killed recently, but La Tuta remains at large.
The Knights Templar controls much of the methamphetamine and marijuana trade in western Mexico.
Prosecutors said Aquiles Gomez was one of its main operators, alongside his brothers Flavio and Luis Filipe Gomez.
Police found his body on Friday at his home in Lazaro Cardenas, a port city on the Pacific coast and a drug-trafficking hotspot.
Vigilantes
In January, vigilante groups began a series of operations against the group in Michoacan state. The vigilantes took control of several towns before federal forces were deployed to the area.
The Mexican government invited the vigilantes to join the official security forces and carry on the fight against the cartel.
Farmers in an area known as Tierra Caliente say they are victims of extortion and kidnappings carried out by the Knights Templar.
The group, which operates mainly in central and western Mexico, first emerged in 2011 as an offshoot of La Familia Michoacana drug cartel.
It takes its name from a Christian military order from the Middle Ages.
The government of President Enrique Pena Nieto has achieved significant victories in the fight against the drug cartels this year.
Three of the Knights Templar top leaders - Enrique Plancarte, known as Kike; Dionicio Loya Plancarte, known as El Tio (The Uncle); and Nazario Moreno, known as The Craziest One - were killed during or arrested during earlier this year.
But the biggest coup came in February, with arrest of Joaquin "Shorty" Guzman.
Guzman, the former leader of the Sinaloa Cartel, was considered the world's most-wanted drug lord.
He had been on the run since escaping from a high security prison in Mexico in 2001.