Colombian women's group wins UN refugee prize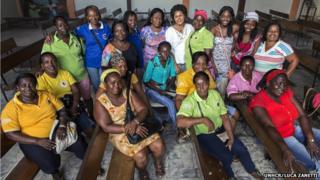 Fighting for women's rights in the Colombian municipality of Buenaventura can be a dangerous task, and Gloria Amparo Arboleda knows it just too well.
"Denouncing violence here is a risky business," she says.
Ms Arboleda is a founding member of Butterflies with New Wings, a network of volunteers that has been supporting local survivors of violence, sexual abuse and forced displacement since 2010.
"But somebody has to," she tells the BBC. "Besides, here you risk losing your life whether you put up a fight or not. It's better to die fighting," she adds.
Healing the wounds
She is not exaggerating for dramatic effect, either.
Buenaventura, Colombia's biggest port on the Pacific coast, is one of its most violent and dangerous cities.
Now, the courageous work of the 120 volunteers of Butterflies with New Wings has earned them the prestigious Nansen Refugee Award, bestowed every year by the UN for "extraordinary humanitarian work on behalf of refugees, internally displaced or stateless people".
"Each day (these women) seek to heal the wounds of the women and children of Buenaventura and in doing so put their own lives at risk," said UN High Commissioner for Refugees Antonio Guterres when announcing the award, which will be presented to the group on 29 September.
"Their bravery goes beyond words," added Mr Guterres, noting the horrors that have befallen the Colombian port, where thousands of displaced families live.
For years, Buenaventura has been suffering the impact of Colombia's five-decade-long internal armed conflict.
In the rural area surrounding the city, Colombia's largest left-wing rebel group, the Farc, still have a significant presence.
And to make matters worse, a bloody turf war has erupted between former right-wing paramilitaries vying for control over land, drug trafficking routes and extortion rackets.
Women as prime targets
The violence in Buenaventura has reached a whole new horrifying level, says Mery Medina, another founding member of Butterflies with New Wings.
"We've seen plenty of selective murders, disappearances, people being dismembered," she says.
"And women are always affected, either because they're victims themselves or because the victims are their husbands, sons or grandchildren," she explains.
Five months ago, the Colombian government set up a special task force to try to deal with the city's many problems.
But residents say that so far, the increased police and military presence does not seem to have significantly altered the perception of security, despite numerous arrests and a reduction in the number of reported killings and disappearances.
Climate of fear
"Not a lot has changed. The security forces are not really in control of the problematic neighbourhoods," explains father Jhon Reina, who coordinates the Catholic Church's social work in Buenaventura.
He says that people are still being extorted, forcibly disappeared and dismembered.
According to Fr Reina, the general feeling is that the illegal groups are still very much in charge here.
"That means that people who were losing their fear are afraid again and therefore they're not speaking up (against the illegal groups)," he adds.
Fr Reina is not the only one who believes this fear also explains the reduction in crimes heralded by the local authorities.
"It is true that we've seen a reduction in the number of disappearances, from 41 by this time this year to only 25," says Jose Quinones, an investigator with the judicial police.
"But my gut feeling is that's because people are just not reporting them. The number will jump up any day," he tells the BBC.
Sexual violence as weapon
Often, sexual violence against women is also used to try to intimidate and control the local population, and those crimes are also seldom reported.
"But we have any number of girls who have been victims of sexual abuses or raped," says Ms Arboleda.
"They (the illegal armed groups) use it as a weapon, to inflict pain and to exert power over the whole community," she explains, pointing out that those who speak up for the victims also risk the wrath of the victimisers.
Which is why the Butterflies have perfected the art of "comadreo", friendly gossip among women that allows trust building and reaching out to victims with as little risk as possible.
"It's all about being there for each other, supporting each other, giving advice, listening, providing a friendly shoulder," says Ms Arboleda.
And her colleague Maritza Asprilla, says the Butterflies' idea is to use the $100,000 (£61,500) of the Nansen Award to build a shelter for women in need.
"We dream of a big house with at least 10 double rooms. There, women will find support, receive training on life skills, get to know their rights," she explains.
But she says the symbolism of the award will carry much further: "It wouldn't be for the women of Buenaventura only, but for the women of the world."