Fugitive Honduran government official arrested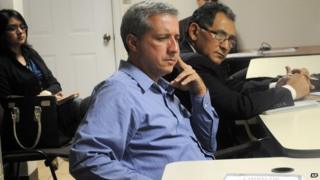 The former head of the Honduran Institute of Social Security, Mario Zelaya, has been arrested near the border with Nicaragua.
Mr Zelaya is suspected of misappropriating millions of dollars from the country's social security programme.
The government had offered a $50,000 (£31,000) reward for information on his whereabouts.
Mr Zelaya had been on the run since January. He denies any wrongdoing.
"The arrest shows that the government works against corruption no matter who it involves,'' said Oscar Alvarez, a congress leader from the ruling National Party.
Mr Zelaya has been accused of fraud, bribery, abuse of public funds and money laundering, charges he denies.
His lawyer, Marcelino Vargas, said his client had been improperly detained in Nicaragua by ``two masked persons'' who took him to the border and handed him over without a formal extradition process.
The authorities have seized more than $7m (£4.3m) of assets under his control, including houses, flats and vehicles.
Mr Zelaya was head of the Honduran Institute of Social Security (IHSS), from 2010 to 2014, during the government of former President Porfirio Lobo.
Prosecutors allege theft and fraudulent spending of over $300m (£180m) involving funds that were supposed to pay for medicine, medical supplies and pensions for retirees and the disabled.
The alleged fraud involved overpricing goods and services by more than 100%. Businesses that benefited allegedly paid commission to officials.
The former deputy health and labour ministers, Javier Pastor and Carlos Montes, have also been detained on the same charges. They were part of the IHSS investment committee during the government of former President Lobo.