Questions raised over Nicaragua 'meteorite'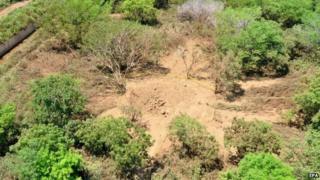 International experts have raised doubts as to whether a 12m-wide (40ft) crater near the Nicaraguan capital, Managua, was caused by a meteorite.
Nicaraguan officials announced on Sunday that a "small meteorite" had come down near the airport.
But Nasa scientists say the fact that no-one reported seeing a fireball in the sky would suggest it was caused by something else.
So far no meteorite fragments have been found in the crater.
'Like a bomb'
Locals said they heard a large blast just before midnight local time on Saturday and reported a burning smell.
A crater 12m wide and more than 5m deep was later found near Managua's international airport.
An adviser to Nicaragua's Institute of Earth Studies (Ineter), Wilfried Strauch, said he was "convinced it was a meteorite" which caused the impact.
But Head of Nasa's Meteoroid Environment Office Bill Cooke said that "for something to produce a hole in the ground that big, it would have generated a very bright fireball, and nothing was reported".
Managua has a population of 1.2 million people and many residents reported hearing a loud bang and feeling a shock wave.
Victor Gutierrez, a mechanic who lives less than a kilometre from the site of the crater said that he "heard the explosion and felt the shockwave, which was very strong''.`
But he stressed that he "didn't see anything in the sky either before or after."
Jaime Incer, a scientist who advises the Nicaraguan presidency on environmental matters, said it was possible nobody was looking up at the sky when the event took place close to midnight.
'Alternative explanations'
Nasa's Bill Cooke estimated that the crater would have been created by a blast of "roughly the energy equivalent of 1 tonne of TNT [explosive material]".
In his blog on the NASA website, he said that a meteor capable of such force would have created a fireball visible over a wide area.
On Sunday Ineter scientist Jose Millan had insisted that "all the evidence that we've confirmed at the site corresponds exactly with a meteorite and not with any other type of event".
"We have the seismic register which coincides with the time of impact, and the typical characteristic that it produces a cone in the place of impact," he added.
Government spokeswoman and First Lady Rosario Murillo said the crater was created by a "relatively small meteorite" that "appears to have come off an asteroid that was passing close to Earth".
But Nasa asteroid expert Don Yeomans said the impact felt in Managua "was separated by 13 hours from the close Earth approach of [asteroid] 2014 RC, so the explosion and the asteroid are unrelated".
Mr Cooke said there could be any number of alternative explanations, ranging from ordinance to "someone out blowing things up".
Nicaraguan officials said on Sunday that they would invite international experts to investigate the event further.