Bomb explosion injures eight in Santiago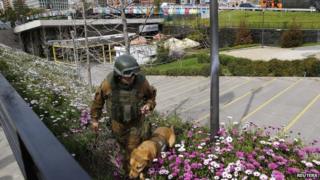 A bomb has exploded in the Chilean capital, Santiago, injuring eight people, three seriously.
It went off at lunchtime in a small underground shopping centre at a busy metro station.
The government says it will use anti-terrorism legislation to find those responsible.
There have been around 200 bomb attacks in Santiago in the past decade with anarchist groups claiming responsibility for many of them.
Police investigators say they believe the device was placed in a rubbish bin. They said they have also identified the car used by the bombers to get away from the scene.
Investigators baffled
Originally written to control left-wing opponents of General Augusto Pinochet during his military government, the anti-terrorism legislation allows for the extended detention of suspects without charge and longer sentences on conviction.
Its use has proved controversial. President Michelle Bachelet swore not to apply the law in the run-up to 2013 elections, and the bill remained in limbo for several months until the government announced plans to review it in May; however, it is still active.
Over the last decade, the bombings in Santiago have baffled investigators.
Around 80 different groups have claimed responsibility for the attacks and prosecutors say they do not know if they are dealing with one group that continually changes its name or many separate cells.
About a third of the bombs have been placed outside banks but other targets have included police stations, army barracks, churches, embassies and other targets.
A handful of bombs have also exploded in provincial Chilean cities.
Correspondents say this latest bomb is by far the most serious. Among the injured is a victim who has lost part of his hand.
The other bombs usually involved small devices, which were planted at night when streets were largely deserted.
The only person killed so far was one of the bombers, who died in 2009 when the device he carried exploded prematurely.
This week Chile commemorates the 41st anniversary of the 1973 military coup that removed socialist President Salvador Allende from power.
At the anniversary, Chileans have come to expect protests which often turn violent.