Fan of Brazil football club Gremio sorry for racist slur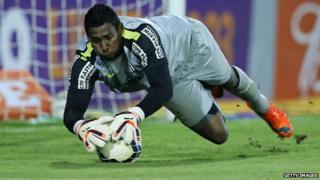 A fan of Brazil's Gremio football club has apologised for racist comments made during a match against Santos.
During last week's match Patricia Moreira. 23, was caught on live television shouting "monkey" at the opposition's black goalkeeper Aranha.
Ms Moreira said it happened in the heat of the moment. She said she was "very sorry from the bottom of my heart" and that she was not a racist.
As punishment, Gremio has been banned from the Brazil cup this year.
Brazil's sports disciplinary commission also issued the club with a fine of 50,000 reais ($22,300; £13,500).
"I don't think racial abuse incidents like that will happen again," commission head Fabricio Dazzi said. "The fans will think twice, knowing that their club can be punished for their acts."
'Hardcore fans'
The court ruled that the fans involved in the incident in the Arena do Gremio, in the southern city of Porto Alegre, would be banned from attending football matches in Brazil for two years.
Patricia Moreira said that in the last week, she had lost her job as a dental nurse and had received death threats and has left her home fearing attacks.
Her lawyer told journalists she wanted to meet goalkeeper Aranha to apologise in person.
Aranha issued a statement saying he was not prepared to meet her. He said his main focus was playing for his club and he hoped the fans involved in the incident would be punished.
Earlier this year the club was fined after its supporters racially abused black defender Paulao from Gremio's bitter local rivals Internacional.