Guatemala prisons director Edgar Camargo arrested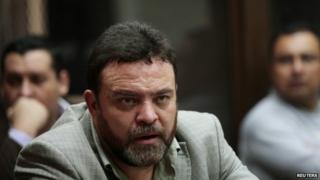 Guatemala's Prison Service Director Edgar Camargo has been arrested and charged with involvement in a lucrative corruption and extortion scheme.
Prosecutors say the scheme was run by a high profile convicted criminal, Byron Oliva Lima, who paid bribes to Camargo.
Oliva Lima took money from inmates to allow them access to phones, special food and sexual encounters in prison.
He is serving a lengthy sentence for the murder in 1998 of Roman Catholic Bishop Juan Jose Gerardi.
Oliva Lima, a 44-year-old former army captain, was sentenced in 2001 to 20 years in jail, but he was due to be released on parole later this month.
He has now been charged with money laundering and organised crime, which means he will probably remain in jail for longer.
Prosecutors say Camargo and at least another 12 people were involved in the scheme.
Privileges
The Guatemalan prison service director was arrested in an early morning raid in the city of Mixco and later appeared in court in the capital, Guatemala City.
He has been accused of allowing Oliva Lima a number of privileges at the Pavoncito jail, including permission to leave the penitentiary in several occasions.
"[Oliva] Lima has been a problem because I know everything that this man is running inside the prison," Interior Minister Mauricio Lopez said recently.
He allegedly imposed work and exercise regimes on other prisoners and demanded money for illegal favours, such as access to mobile phones, appliances and currency exchange facilities.
Camargo and Oliva Lima were school friends and graduated in the same class in 1987, according to Prensa Libre newspaper.
Oliva Lima was sentenced along with three other men for the killing of Bishop Gerardi.
The cleric was bludgeoned with a concrete slab after blaming Guatemala's military for most of the deaths during the Central American nation's brutal civil war.
An estimated 200,000 people were killed in the 1960-1996 civil war, the vast majority of them indigenous Ixil Mayans accused of supporting a left-wing insurgency.