Chile fines Pinochet's ex son-in-law Julio Ponce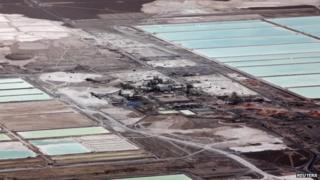 One of Chile's richest men, Julio Ponce, has been fined $70m (£42.5m) for illegal share trading.
Mr Ponce is the chairman of Sociedad Quimica y Minera (SQM), the world's biggest producer of iodine, lithium and potassium.
He was married to the daughter of Chile's former military ruler, Gen Augusto Pinochet.
Mr Ponce, who can appeal against the fine, says the charges against him are politically motivated.
Record fine
The regulator of the Chilean stock exchange found Mr Ponce, who controls SQM through a series of holding companies, guilty of enriching himself at the expense of other shareholders.
It fined Mr Ponce and seven of his associates a total of $164m, the highest fine the regulator has ever issued.
The regulator said the eight had been part of a scheme in which they bought up shares at below-market prices only to resell them at inflated prices.
The BBC's Gideon Long in Santiago says many of the transactions were channelled through Chile's largest brokerage firm, LarrainVial, which has also been fined.
Mr Ponce was married to Gen Pinochet's daughter Veronica for 22 years.
He was a director of several state-owned companies in the 1980s during his father-in-law's military rule.
Earlier this year, the magazine Forbes listed Mr Ponce among the world's 1,000 richest people, with a net worth of several billion dollars.