Colombia drought triggers clashes in La Guajira province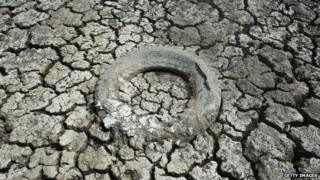 Nine people have been injured in clashes between police and residents of Colombia's northern La Guajira province demanding more government support for the impoverished region.
La Guajira is currently suffering from a drought and locals say the authorities have not done enough to mitigate its effects on the population.
Riot police were deployed to clear roadblocks and remove burning cars.
The government says it has done all it can to ease the water shortage.
'Enormous debt'
Angry locals have called an open-ended strike and about 70% of businesses and most schools remained closed on Monday.
Protest leader Felipe Rodriguez said that "the debt the state owes this province is enormous".
According to Mr Rodriguez, more than half of the population do not have running water and only 39% have adequate sewage systems.
Some communities say they have not seen any rain for as long as two years.
La Guajira Governor Jose Maria Ballesteros has called for calm, but the protesters said they would not give up until President Juan Manuel Santos convened an emergency committee to tackle the crisis.
The president travelled to the province on the weekend, his first trip since he was inaugurated for a second term in office on Thursday.
He announced that his government would help local authorities build 100 wells to ensure residents had access to drinking water at all times.
He said it was his "dream to convert La Guajira into the larder of Colombia".