Argentine 'stolen grandson' Hurban in joyful reunion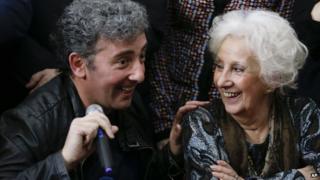 A 36-year-old Argentine music teacher has made his first public appearance since finding out he is the grandson of a prominent human rights campaigner.
Ignacio Hurban is one of hundreds of children whose parents were killed during military rule in the 1970s.
He was reunited this week with his grandmother Estela de Carlotto, who heads the leading campaign group Grandmothers of the Plaza de Mayo.
He said this was "a small victory" in the fight for reparation.
The Grandmothers of the Plaza de Mayo is dedicated to finding the children abducted from their parents during the period that became known as Dirty War.
The children of left-wing activists were often given for adoption in families that supported the government.
Some 30,000 people were murdered during the 1976-1983 military rule in Argentina.
'Happy childhood'
Mr Hurban appeared at a news conference alongside his grandmother at the headquarters of the group.
"It has been a beautiful experience, I've met so many relatives. It is a big family" he said.
"I am comfortable with the truth that has come to me and I am happy."
Mr Hurban's mother, history student Laura Carlotto, was killed in prison two months after giving birth to him in June 1978.
She named the baby, who was taken from her, Guido Montoya Carlotto.
"It is difficult to realise the magnitude of this. I always realised what had taken place and the damage it did to our country," he said, referring to the military dictatorship.
He is the 114th child of left-wing activists to be identified. There are more than 400 yet to be found.
"I have decided to show my face to encourage others to come forward, to see what a great joy this moment is," he said.
"I want to thank everyone, to thank God," Ms Carlotto said. "I wouldn't like to have died without hugging him."
It is not clear whether the family which raised him in Olavarria, 350km (220 miles) south-west of Buenos Aires, knew that he had been stolen from his mother.
But he said he had "a very happy childhood, brought up by an extraordinary couple".
His biological father, Walmir Montoya, was an artist and activist, shot dead by the military in December 1977.