Julio Grondona: Argentine Football Association head dies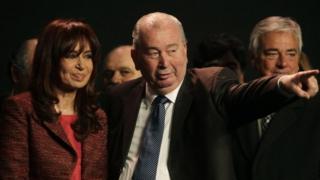 Julio Grondona, the Argentine Football Association (AFA) president, has died in Buenos Aires at the age of 82.
Mr Grondona had ruled the AFA for 32 years. Local media reported he had had a heart attack.
A powerful ally of Sepp Blatter, the president of the world football governing body Fifa, Mr Grondona was also a senior Fifa vice president.
During his leadership of AFA, Argentina won the World Cup in 1986 but lost in the final in 1990 and 2014.
In his time in office, Mr Grondona dealt with Argentine presidents of all political hues, including military rulers.
Influential on the national political scene, he held onto power when their governments had collapsed or changed hands.
Known in Argentina as "the Godfather" he had been accused of not doing enough to tackle the "Barra Bravas" - violent organised football hooligans - in Argentine football.
He had argued that the problem was a reflection of the growing violence on the streets of the country.
'Bad luck charm '
He was heavily criticised by retired Argentine football star Diego Maradona, who blamed Mr Grondona for the many problems of the national game.
Mr Grondona hired Maradona as the national coach and then dismissed him after Argentina lost in the quarter-final of the 2010 World Cup.
During the 2014 tournament, Maradona responded to being called a "bad luck charm" by Mr Grondona by making an obscene gesture on live TV.
When Fifa became engulfed in corruption allegations in 2011, Mr Grondona railed against the British press, which had published several investigations, calling them and the English "pirates".
He had been on Fifa's executive committee since 1988 and had chaired the influential finance committee.
Mr Grondona had said he expected to step down from the AFA in 2015 - but he had also often said the only way he would leave was in a coffin.