Venezuela opposition leader Lopez: 'Trial will test democracy'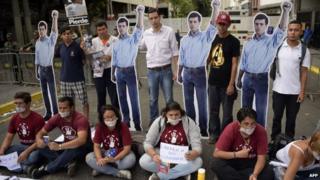 One of Venezuela's main opposition leaders, Leopoldo Lopez, has told a judge in Caracas that his trial on charges of inciting violence will be a test for the country's democracy.
Mr Lopez has been in custody since 18 February, when he handed himself in to the authorities.
He is accused of inciting violence during an anti-government march. He denies all the charges.
His trial began on Wednesday and will resume on 6 August.
Mr Lopez, 43, has accused the government of President Nicolas Maduro of jailing Venezuelans for seeking democratic change.
"This trial will test the quality of [Venezuela's] democracy," he told judge Susana Barreiros.
'He will pay'
Prosecutors produced 56 items of evidence, including videos and testimonies, to try to prove that Mr Lopez encouraged opposition activists to engage in violence and damage public buildings.
Mr Lopez said that 15 items of evidence his lawyers wanted to be considered at the trial had been rejected by the judge.
"Without evidence there is no fair trial," he said in court.
But the Venezuelan president has said that Mr Lopez is going through a proper judicial process.
"He is responsible for crimes and must face the justice system, and he will pay under the law. He has to pay and will pay, it's that simple.
"He has damaged this country a lot," Mr Maduro said.
Hundreds of supporters, including Mr Lopez's wife, Lilian Tintori, and his parents, gathered outside the court to call for his release.
Mr Lopez also called for the release of four students who have been in detention for months and are being tried with him.
'Failed socialist policies'
Hundreds of thousands of people took to the streets of Venezuela earlier this year in months of protests against rising inflation and crime.
A total of 42 people, both supporters and opponents of the government, have died in the protest-related violence.
The street protests began in late January, in the western states of Tachira and Merida.
Opposition leaders seized the momentum and called for a big anti-government march in Caracas a few weeks later, on 12 February.
Mr Lopez was among the most active leaders. He founded a movement to push for a change of government using the hashtag #lasalida, which in Spanish means both "the exit" and "the solution".
The government urged its supporters to take to the streets in the same day, in a rival march. Three people died in incidents at the end of the marches.
Mr Lopez has been an outspoken critic of Mr Maduro and his predecessor, Hugo Chavez, who died in March 2013.