Pope urges help for Central American child migrants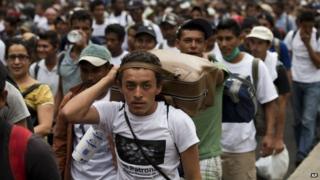 Pope Francis has added his voice to calls to help thousands of unaccompanied Central American children migrating to the US every month.
In a letter read by the Vatican envoy to Mexico, the Pope said the region was facing "a humanitarian emergency".
He urged Central American governments to offer protection to the children and explain the dangers of migrating.
The US says in eight months from October 2013, 57,000 children reached the US border with Mexico.
President Barack Obama has called for $3.7bn (£2.1bn) in emergency funds.
The White House said the money would be used to remove more illegal migrants from the country and open additional detention centres.
Last week the governments of Mexico and Central America agreed to work together closely to tackle the people trafficking mafias taking the migrants north.
Honduran President Juan Hernandez has blamed the surge in child migration on the US policy on drugs which he says leads to violence in Central American countries.