Rocket attacks in Egypt's Sinai peninsula kill eight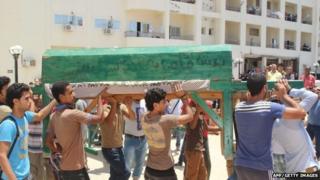 Seven civilians and one soldier have been killed in two rocket attacks in the northern Sinai peninsula, Egypt's military has said.
One rocket hit a crowded market place in the coastal city of el-Arish on Sunday night.
Minutes later, two more rockets fell on a nearby security compound.
Jihadist militants based in Sinai have stepped up attacks on soldiers and police since the army ousted Islamist President Mohamed Morsi last year.
Egyptian media quoted a security source as saying early reports suggested that Ansar Beit al-Maqdis, a jihadist group linked to al-Qaeda, fired the rocket that hit the market place.
The target was probably the adjoining military headquarters for the Sinai region, the source added.
Ansar Beit al-Maqdis has said it is seeking revenge for the suppression of Mr Morsi's supporters, which has seen more than 1,400 people killed and 16,000 others detained in the past 12 months.
In a statement on Monday, a military spokesman said the latest attacks would not deter the army from continuing with what it called its "war on terrorism".
Earlier on Sunday, a court in Egypt sentenced more than 100 Morsi supporters to three years in jail for acts of violence in the Nile Delta city of Damietta, Egyptian state media reported.
Mr Morsi is currently facing four trials on a raft of charges, along with many senior leaders of his Muslim Brotherhood movement.