Fresh landslide at Honduras mine where eight are trapped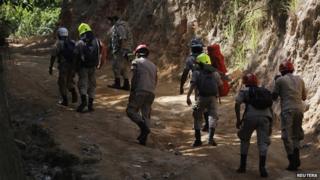 There has been a fresh landslide at a makeshift gold mine in Honduras where 11 miners were trapped on 2 July.
Three of the men were freed on 4 July, but the rescuers have not been able to reach the remaining eight and it is not clear whether they are still alive.
The official search was suspended on Monday because of the risk of further landslides, but locals continued digging regardless.
The new collapse has blocked the entrance to the mine.
The accident on 2 July happened in a vertical tunnel at a depth of about 80m (260ft).
Rescue workers were able to locate the three miners they freed after they heard their shouts. But nothing has been heard from the other eight.
Dangerous business
Local officials say there are more than 50 makeshift mines in the area around El Corpus, about 110km (70 miles) south of the capital, Tegucigalpa.
Thousands of people use ladders to climb down into shafts as deep as 200m (656ft) every day.
Armed with pickaxes, they hack away at the tunnel walls to try to extract minute gold nuggets from the soil.
It is a highly risky way to make a living in an area prone to earthquakes and landslides and the government is keen to move people into other sectors.
On Tuesday, Honduran President Juan Orlando Hernandez said he would support programmes to offer locals alternative employment in areas such as coffee growing.