Quake 'kills three' as it strikes Mexico and Guatemala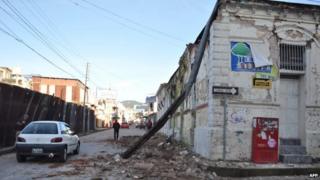 A 6.9-magnitude earthquake has struck southern Mexico and Guatemala.
Guatemalan firefighters said they had received reports of two people being killed in the San Marcos region. Another person died in Huixtla, Mexico.
Dozens of homes are also said to have been damaged in San Marcos.
The quake's epicentre was near the city of Puerto Madero in the southern Mexican state of Chiapas, but it could be felt as far north as Mexico City and as far south as El Salvador.
The US Geological Survey said the quake had originated 60km (37 miles) below the surface, while Mexican seismologists said its depth was more than 90km.
The emergency services in Guatemala said two people died when their house collapsed on top of them in the town of San Rafael Pie de la Cuesta.
The same area was struck by a quake in 2012 which killed almost 50 people.
A third person died when a wall crumbled in Huixtla, in Chiapas.
A resident of Guatemala City, Heidy Martinez, told the BBC she had been woken up by the quake which "shook her whole house".