Search for Honduran miners continues amid fading hopes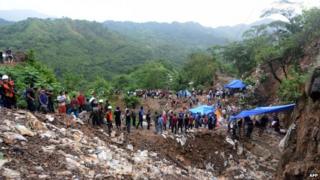 Hopes of finding eight miners trapped in an artisanal gold mine in southern Honduras are fading, rescuers say as they continue their search.
"Let's see if it's possible at least to retrieve the bodies," said Anibal Godoy, who is leading the effort near El Corpus, about 110km (70 miles) south of the capital, Tegucigalpa.
Three miners rescued on Friday are recovering in hospital and remain in a stable condition, doctors say.
They emerged dehydrated and exhausted.
The men were cut off last Wednesday after a landslide blocked their tunnel exit at the small mine - at a depth of 80m (260 ft).
"We believe the missing miners are trapped some six to eight metres from where the others were rescued," said Mr Godoy, a geologist.
But he said that the search might be abandoned if they are not found there.
Informal mines are common in Honduras but the lack of adequate safety means serious accidents are not unusual.
The mine is in an area prone to landslides and earthquakes.
The mayor of the nearby town of El Corpus, Luis Andres Rueda, said there were more than 50 informal mines in the area.
He estimated that hundreds of people use ladders to climb down into shafts as deep as 200m every day.
Armed with pickaxes, they hack away at the tunnel walls to try to extract minute gold nuggets from the soil.