Suarez ban: Uruguay media dismayed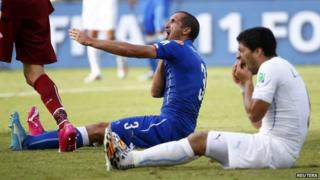 Newspapers in Uruguay have reacted with dismay after the Uruguayan footballer Luis Suarez was given the biggest ban in World Cup history for biting an Italian opponent on Tuesday.
Suarez was banned from the next nine international matches and all football activities for four months.
It means Uruguay will be without their star player for the knockout stage of the World Cup.
'Cold water'
For one of the country's main newspapers, El Pais, Fifa's ruling is like "a bucket of cold water".
The paper publishes postings from a Twitter hashtag (#DeOficioTodosoNinguno) in which politicians, journalists and Uruguayan fans react. Most are supportive, along the lines of "let he who is without sin cast the first stone."
The fans have also published pictures of the misconduct of Italian players which they say were not punished.
El Pais is also critical of international coverage of the incident involving Suarez and the Italian player Giorgio Chiellini.
It says after Tuesday's match, "there was no further analysis, or goals, or match commentary. The premise appeared to be "let's kill Suarez."
El Pais says Suarez was the "bad" character in the film, he was found guilty long before he was tried.
Hurt
Sports minister Liliam Kechichian is quoted as tweeting: "This disproportionate sanction hurts us.
"We now have to see how we can help the human being (Suarez) and how the team shows the best it has and its love for the country's colours."
"Fifa crucified Suarez and kicked him out of the World Cup," says La Republica.
La Republica sums up the feelings of many in Uruguay: "The 2014 World Cup in Brazil will go down in history as the one in which Fifa 'ex officio' stripped Uruguay of its most powerful weapon."
In a second article, La Republica publishes the reaction of the country's president, Jose Mujica.
He is quoting as saying Suarez "was not chosen as a philosopher, or a mechanic, or because of his good manners. He is an excellent player."