Mexican drug suspect arrested in Brazil ahead of match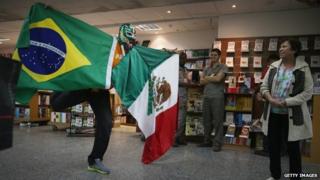 Police in Brazil have arrested an alleged drug trafficker from Mexico who was on his way to see a World Cup match on Tuesday.
The suspect, Jose Diaz Barajas, was arrested at Rio de Janeiro's airport as he was about to board a flight with his wife and two sons.
He had tickets for the game between Mexico and Brazil in the north eastern city of Fortaleza.
Mr Diaz Barajas is reportedly wanted in the US and Mexico.
Brazilian police said Mr Diaz Barajas was suspected of producing methamphetamines for the US market.
"He was low-profile and used real documents to enter the country because he thought that nobody was looking for him," said a police spokesman, Luiz Cravo Dorea.
Police had reportedly monitored his movements since he arrived from Paraguay earlier this month.
"He will remain imprisoned in Rio until his extradition to the US is determined," Mr Cravo said.
Brazil has ramped up security during the football World Cup, with about 100,000 police patrolling the 12 host cities complemented by nearly 60,000 soldiers.
Representatives of 37 police forces from around the world are also in Brazil as part of the enhanced security.