Colombia vote: Rocky road to peace for re-elected Santos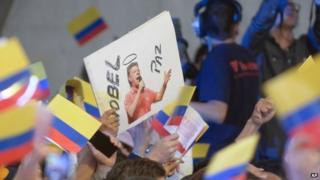 Colombians have given President Juan Manuel Santos and the peace process he started with the left-wing Farc rebels in November 2012 a resounding vote of confidence in the second and final round of the presidential election. BBC Mundo's Arturo Wallace looks ahead to the challenges facing Mr Santos.
At the end of a tense run-off, Mr Santos came back from the narrow defeat he sustained in the first round three weeks ago to beat his conservative rival Oscar Ivan Zuluaga by a margin of six percentage points.
Everything seems to indicate the race was decided by the candidates' different stances on how to end five decades of armed conflict and make peace with Colombia's left-wing guerrillas.
Promising to impose stricter conditions on peace talks currently under way with the rebels made Mr Zuluaga the preferred choice of Colombian hard-liners who think the incumbent has been too soft on the guerrillas.
He had also promised that if he were to come to power, all Farc rebels would have to spend some time in jail.
'Cause of peace'
Mr Zuluaga also enjoyed the backing of former President Alvaro Uribe, a fierce critic of the peace talks and someone who remains an influential figure in Colombian politics.
But 50.95% of Colombian voters chose not to vote for change, perhaps fearing Mr Zuluaga's tough stance could derail the talks altogether.
"Colombians of very different positions, including many who didn't sympathize with my government, mobilized today for a cause, the cause of peace," President Santos during his victory speech.
"They did so because they understand history is about moments, and this is the moment of peace," he added.
The route to ending the conflict, however, is likely to be anything but smooth.
Challenges ahead
First, President Santos will have to reach a final agreement with the Farc, the country's largest left-wing rebel group, which, even though its numbers have dwindled, still has an estimated 7,500 active fighters.
Then, he will have to negotiate a peace deal with the National Liberation Army (ELN), a smaller left-wing guerrilla group which commands some 2,500 rebels.
He will also have to ensure that any deal he reaches with the rebels has the support of the population.
Opinion polls suggest that at present an overwhelming majority rejects the idea of former Farc leaders running for Congress without having to spend time in jail.
"That means his main challenge will be not only to successfully conclude the peace process, but also taking it to the polls and getting it approved," the director of the Bogota-based Conflict Analysis Resource Centre, Jorge Restrepo, told the BBC.
Formidable opposition
Mr Zuluaga and his mentor, Alvaro Uribe, are likely to put up formidable opposition to President Santos's plans.
Even though Mr Zuluaga gracefully acknowledged his defeat shortly after the results were announced, Mr Uribe accused Mr Santos of buying votes and using state resources to secure his re-election.
The former and the current president look set for future clashes as Mr Uribe takes up his seat in the senate to lead the parliamentary opposition to Mr Santos.
Rafael Guarin, a political analyst close to Mr Uribe, says that any deal reached with the Farc which could be seen as offering the rebels impunity would be "hard to sustain from a political and a legal point of view".
Decades of conflict
The president is also likely to encounter opposition from Mr Uribe on other points of his legislative agenda.
And many of the politicians who backed the president in the run-off have made it clear they did so only to support the peace negotiations.
Some of his left-wing critics even wore gloves and mouth covers when they cast their ballots on Sunday to show their reluctance in voting for the centre-right candidate.
Building the necessary consensus to pass the reforms needed to keep the economy going strong at a moment when commodity prices are stagnating might also prove tricky.
But President Santos predicts that a peace deal would trigger a growth in GDP of two points, which in turn would help him finance his pledge to create of a more inclusive Colombia.
"We won't let you down in our commitment of achieving peace with social justice," he said, giving voters another reason to back the attempt of ending the Western Hemisphere's longest-running armed conflict.