Colombia and rebels from the ELN to hold peace talks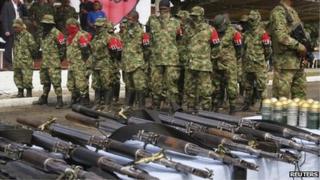 The Colombian government says it is starting peace negotiations with the country's second largest rebel group, the National Liberation Army (ELN).
In a joint statement, the two sides say they have been holding exploratory peace talks since January and have now agreed on some points of an agenda to discuss in formal talks.
They are the issue of victims and participation of civil society.
The negotiations will begin once all the points to be discussed are agreed.
The announcement comes five days before the run-off in the presidential elections.
President Juan Manuel Santos is facing Oscar Ivan Zuluaga, a former cabinet colleague who has opposed peace negotiations with the main rebel group, the Farc.
The election could decide whether the talks with Farc rebels will continue.
President Santos supports the negotiations as the best way to end Colombia's 50-year rebel insurgency.
He said the ELN would be subject to the same conditions as the Farc.
"The talks would be abroad, without a bilateral ceasefire or creating a demilitarised zone," he said.
Mr Zuluaga has said in the past that talks pander to terrorists and suggested he would scrap them in favour of tougher military campaigns.
The ELN has sought peace before, holding talks with the government in Cuba and Venezuela between 2002 and 2007.
It is believed to have around 3,000 fighters and has been weakened considerably in the last few years by a US-backed military offensive.