Argentine Vice-President Boudou questioned by judge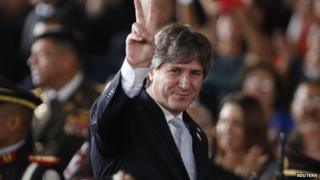 Argentine Vice-President Amado Boudou has appeared in court to defend himself in a corruption case.
Mr Boudou is suspected of using his influence to ensure that a contract to print Argentina's currency was awarded to a company he allegedly controlled.
He was questioned for more than seven hours in a closed-door court session in Buenos Aires by prosecutor and federal judge Ariel Lijo.
Mr Boudou denies any wrongdoing and has rejected opposition calls to step down.
He had asked that the hearing be broadcast live on television but the request was turned down by Judge Lijo.
Mr Boudou's lawyers then told the court that they would make their own audiovisual record, although it wasn't clear if this would be permitted.
Mr Boudou said he wanted the questioning to be made public because he doesn't trust the judge, and accused him of selectively leaking information to the media.
Long investigation
A crowd of pro-government activists gathered outside the court on Monday to show their support for the vice-president.
Mr Boudou told Radio Provincia on Monday that he was looking forward to "seeing whether we can shine a light on this".
After the hearing he may be charged or the judge may dismiss the case.
The case involves the Ciccone Calcografica printing company that has been under investigation for more than three years.
Mr Boudou is suspected of using a front man to buy the company when it filed for bankruptcy in 2010.
The company later received tax breaks to pay its debts.
It also published material used in the re-election campaign of President Cristina Fernandez de Kirchner in 2011.
Mr Boudou, who was once seen as a possible successor to President Fernandez, was Argentina's economy minister at the time.