Argentine vice-president Boudou summoned in corruption case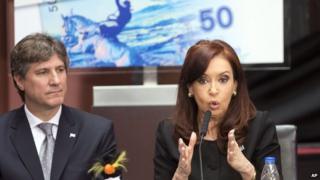 A judge in Argentina has summoned Vice-President Amado Boudou to appear in court in July to defend himself in a corruption case.
Mr Boudou is suspected of using his influence to ensure that a contract to print Argentina's banknotes was awarded to a company he allegedly controlled.
He was once seen as a possible successor of President Cristina Fernandez de Kirchner.
Mr Boudou denies wrongdoing. The opposition has called on him to resign.
He is due to appear in court in Buenos Aires on 15 July. After the hearing he may be charged or the judge may dismiss the case.
The case involving the Ciccone Calcografica printing company has been under investigation for more than three years.
'Direct input'
Mr Boudou is suspected of using a front man to buy the company when it filed for bankruptcy in 2010.
The company later received tax breaks to pay its debts. It also published material used in the re-election campaign of Ms Fernandez in 2011.
Judge Ariel Lijo, who issued the court order, says Mr Boudou may have "made business deals incompatible with his position as a government official".
He was Argentina's economy minister at the time.
The Argentine vice-president "is alleged to have had a direct input in the negotiations to buy the company, taking part in meetings" to discuss the deal, said Mr Lijo.
Mr Boudou's popularity has declined sharply since the investigations began, says the BBC's Ignacio de los Reyes in Buenos Aires.