Brazil's World Cup training starts amid protests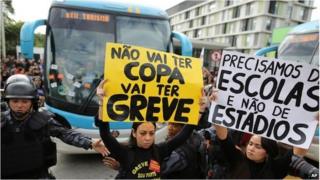 Brazil's national team has started its World Cup preparations amid protests in Rio de Janeiro.
A bus carrying the players to a hilltop training camp was surrounded by striking teachers chanting slogans against the tournament.
Later, upon arriving at the Granja Comary training base, players were greeted by fans - and more protesters.
Thousands of people have protested against the cost of staging the tournament beginning next month.
'No World Cup'
Monday's demonstrations started outside Rio's Linx Hotel, where 22 players met their coach, Luiz Felipe Scolari, for the start of their preparations.
Before they left the hotel, it was surrounded by more than 100 protesters, who attached stickers to their bus.
"There will be no World Cup, there will be a strike," the crowd chanted.
Rio's school teachers have been on strike since 12 May, demanding better pay and working conditions.
About an hour later, the bus arrived at the Granja Comary in the hilltop city of Teresopolis.
Hundreds of people were expecting them, among more than 100 international journalists and Brazilians who went to cheer the players or to continue the teachers' protests.
Meanwhile, Brazil's footballing legend and Fifa World Cup ambassador Ronaldo has blamed the government for delays in infrastructure projects for the tournament.
"This is what people should understand: it's down to governments. The governments they have elected. It's nothing to do with football or the World Cup," he told Brazilian newspaper Valor.
Brazil will play the opening match against Croatia in Sao Paulo on 12 June.
Real Madrid's left-back Marcelo has been allowed an extra day's rest following his team's Champions League victory over Atletico Madrid on Saturday.
Brazil's striker Fred, from Rio-based Fluminense, was among the first players to arrive at the hotel.
Shortly before the arrival of the striking teachers, he stressed the importance of the supporters for Brazil's campaign.
"With this union between people and the national team, we have everything to play a great tournament and win the title," Fred told reporters.
Last year, more than a million people took to the street in dozens of Brazilian cities over poor public services, corruption and the high cost of the World Cup.