Colombia opposition candidate's campaign hurt by video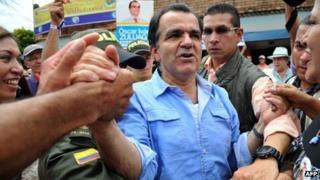 Colombia's presidential campaign has taken an unexpected turn following the publication of a video of the leading candidate apparently discussing illegal interceptions with a former advisor.
The aide was later arrested on charges of illegal hacking and espionage.
The opposition candidate Oscar Ivan Zuluaga had previously denied any knowledge of the man's alleged activities.
Colombians go to the polls next Sunday and Mr Zuluaga has a narrow poll lead.
His closest rival is the current president Juan Manuel Santos.
But now his campaign is on the defensive after the publication of the video by news magazine Semana, correspondents say.
It apparently shows Mr Zuluaga discussing illegal interceptions last month with Andres Sepulveda, who had been hired by Mr Zuluaga's campaign as a computing security expert.
Mr Sepulveda was arrested earlier this month on charges of illegal hacking and espionage.
The candidate, an ally of the former president Alvaro Uribe and a staunch opponent of ongoing peace talks with the Farc rebels, had always denied any knowledge of his alleged activities.
At the time of Mr Sepulveda's arrest, Colombia's Attorney General Eduardo Montealegre said he ran an office intercepting emails from Farc rebel negotiators and the government.
"The purpose of this office, the purpose of the people who were involved in this criminal enterprise, was to sabotage, interfere and affect the peace process in Havana," Mr Montealegre told a news conference in Bogota.
The Farc, Colombia's largest guerrilla group, has been in talks in Cuba with the government since November 2012 to try to end the longest-running internal conflict in Latin America.
Hundreds of thousands of people have been killed and some three million more have been internally displaced since the two sides began fighting in the 1960s.
President Santos has said he hopes to sign a peace treaty with left-wing rebels this year.